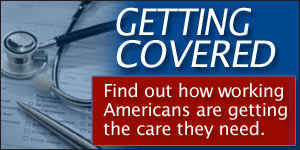 Get Ready for Quality,
Affordable Healthcare
As of October 1, millions of hardworking Americans are now able to sign up for high quality, lower-cost healthcare thanks to the healthcare law, the Affordable Care Act. It's easy to sign up, and if you or your family members do not have coverage at work, you may be eligible for financial assistance to lower your healthcare costs.
Check out localhelp.healthcare.gov to connect with your state's marketplace or a local navigator who can help assess your healthcare needs, compare available plans, and get you signed up.
Or, call the national hotline at 1-800-318-2596 for answers
Find out if you qualify for low-cost coverage through Medicaid – you may be surprised to find out that you qualify now even if you did not in the past.
More than 100 million Americans have already gained greater health and financial security thanks to the Affordable Care Act. What can it do for you?
Now is the time to ask questions, get answers, and get covered. Coverage goes into effect January 1.
http://www.seiu.org/readyforhealthcare/
Facebook link: https://www.facebook.com/photo.php?fbid=10151758674712680&set=a.401685982679.184527.19972147679&type=1&theater
Local Iowa News: